Kim Delaney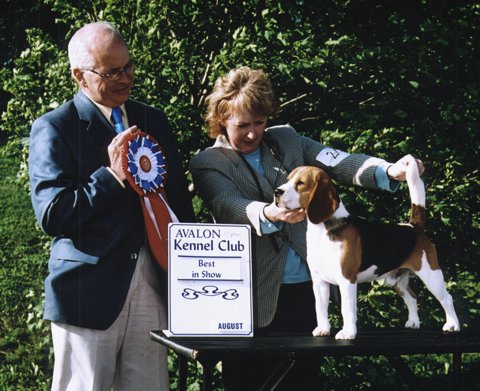 Kim Baxstrome attended her first show at the age of seven with her family, who were showing a collie at the time.
She showed her first dog,a shih Tzu for a friend at the age of seven and began showing a sheltie, at the age of eleven. She also showed several of her family's collies and shelties to their championships.
At age fourteen, she began working as an assistant for John Heartz, a professional dog handler in Nova Scotia, during her summer vacation.
When she completed school, she moved to Nova Scotia to work with John, full time.
During the winter of 1988, Kim worked as an assistant to professional handlers Wade Burns and Jon Woodring of Lanbur Beagles and Shelties, in North Carolina.
Upon her return Kim continued as a professional handler and continued to work with John Heartz. Although no longer showing dogs for other people,with the exception of a select few she continues to show our own beagles.
During that time, over 55 Best in Shows have been won for many clients on breeds from all seven groups. As well as Best Puppy in Show and Groups wins. Many championships have been attained in both the United States and in Canada.
Updated: January 26, 2013